Mountain Biking Rides For Kids
MTBX provides semi-private and small group mountain biking rides for kids with an expert Director and MTBX staff.   Riders who participate are typically  ages 10 to 15 with skill levels from intermediate to advanced and prior trail riding experience.  Your rider will have a fantastic experience, in an outdoor setting to explore the best trails in Santa Clara, Santa Cruz and San Mateo counties in the Bay Area of California, with expert coaching guidance and close trail supervision.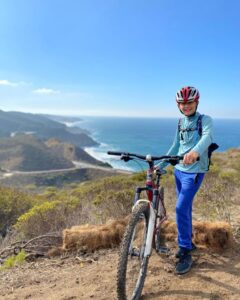 Rides may be booked individually or as a packet.  All rides are are three (3) hours in length after travel time to the mountain biking destination.  Your fee includes door to door pick up and drop off.  Riders are grouped by ability and/or group friendships.  We follow  COVID-19 safety guidelines for rides.
Mountain biking is an active and fun outdoor sport that helps to build physical strength, increases focus, builds endurance and support confidence building in kids of all ages.  We pride ourselves on providing excellent  supervision and an amazing experience for each child, according to their ability level.  Contact us for more information!
Riders are supervised and taught by an expert Instructor/Coach and Staff.
All riders must have their own mountain bike and helmet to participate.
Rides include 3 hours of trail time.
Riding sessions are designed for small groups.
Fee includes one pick-up and drop-off location by the Instructor per session.
All bookings once paid are non-refundable.