MTBX Mountain Biking Race Team
MTBX is proud to sponsor our own mountain biking Race Team!  Participation on the team is by invitation only, and for riders age 11 to 15 with advanced trail skills and experience who are accepted for the team by the MTBX Director. Contact us for information on Race Team fees and criteria for participation.
Please fill out this Race Team Survey if you are interested to join our MTBX Racing Team!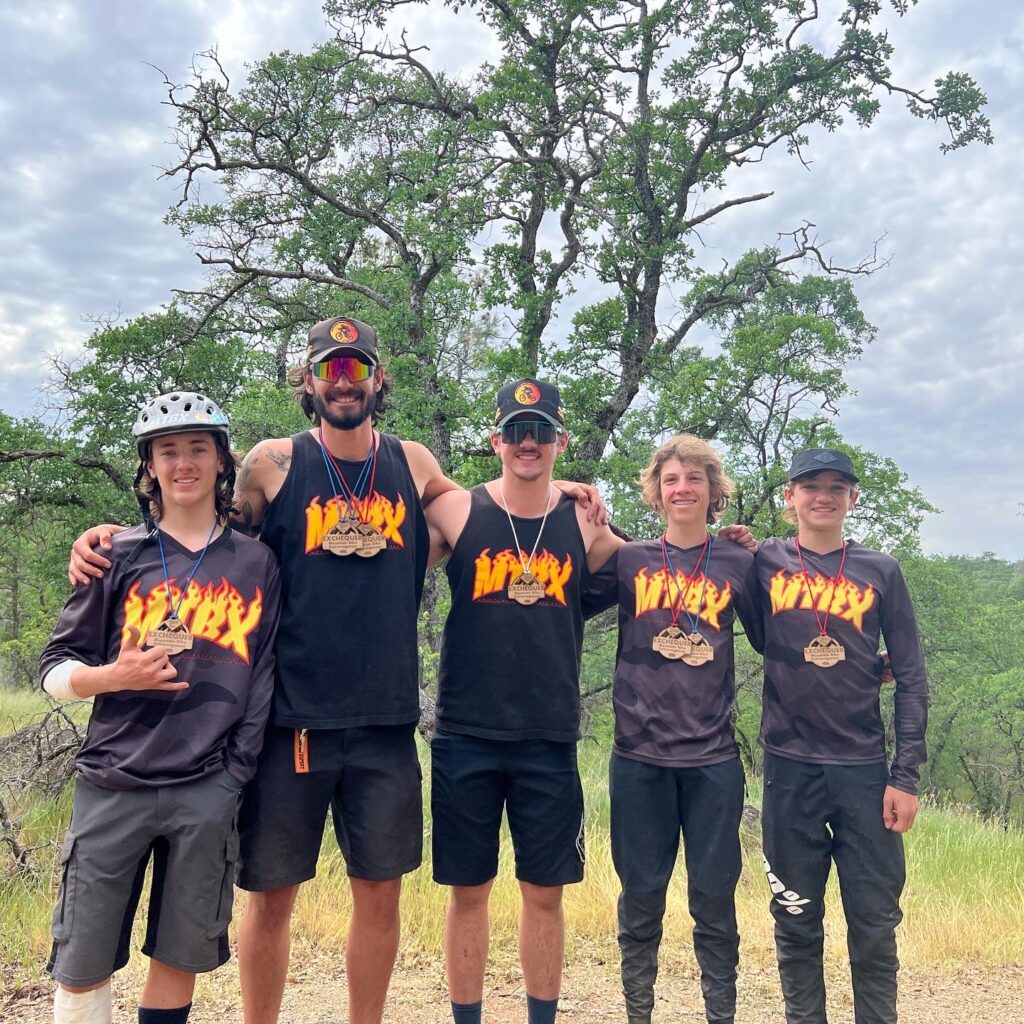 About The MTBX Race Team
MTBX Season:  All team Race Team members must commit to a participation plan for the

full year

including weekly and weekend training rides during both the Fall season in September and October and the Spring season in March and  April in order to compete in any of the regional races.
Fees: Enrollment fees are paid in advance, for each season. Participants must enroll and commit to team practices for either for 2 or 3 training rides per week.
Drop Off/Pick Up: Parent drop off and pick up is at Mitchell Park, Palo Alto for each practice.
Practice Days:  Race Team practices are held weekly on Monday, Wednesday and Sunday weekly during the season.
Practice Times:  Weekly practice times are from 4:00 pm to 7:00 pm on Mondays and Wednesdays, and from 9:00 am to 3:00 pm on Sundays.  Practices are held at various challenging trail locations in San Mateo and Santa Clara county.
Race Fees: Race fees for the full event including race entry fees, team jersey, overnight supervision with camping and food are and additional cost per rider.  Contact us for more information.
Race Dates: Races include one in the fall and one or more in the spring. Race costs are an additional fee to the enrollment for the team practices. 


 

Fall Race:  "Deep Cee Downhill" in Belmont, CA (TBD).
Event includes overnight camping at the race location.
Spring Race: "Exchequer Race" in La Grange, CA in early April dates TBD.  (Friday, Saturday & Sunday).
Event includes overnight camping at the race location.

The Exchequer Extravagnaza is a 3-day mountain bike event full of racing, camping, bike festivities, demo bikes, and an expo with vendors in the industry coming out! The racing starts Saturday morning on one of the most demanding cross country multi-lap races in California.
Riders race multiple laps on a 6.5 mile and 1,100 feet per lap course.
The top 3 finishers for the cross country race will get to stand on top of the podium at the end of the day.
Day two will be the gravity races with the Exchequer Enduro. The eEnduro is a multi-stage format where racers will be timed on the most technical downhills in the park. Racers will compete for the fastest time overall in all 4 stages within the park.
Exchequer Mountain Bike Park sits on top of Lake McClure and is a 700-acre park on prime riding terrain dedicated exclusively to mountain biking.

Spring Race : "Sea Otter Race" near Monterey, CA in early April dates TBD (Thursday, Friday & Saturday).
Event includes overnight camping at the race location.
MTBX Race Team At the Exchequer Mountain Bike Extravaganza
The MTBX racing team proudly took home two first place medals in this competitive event.  MTBX Racing Team was proud to have competed in their first race in April 2021 at the regional  Exchequer Mountain Bike Extravaganza near La Grange, California.  Exchequer is a 2 day racing event  weekend that includes cross country (XC) and enduro. The XC race included 10-mile course with approximately 1600 feet of elevation gain. The enduro was a three stage downhill competition.
MTBX Race Team Photos From Exchequer 2022
MTBX Race Team Photos From Exchequer 2021
First place Enduro
Coach Erik Werner!

First Place Enduro
Jessie

Slafsky

!

Coach Lukas Swidler and Christian Tafoya