Summer Camp 2023
Ages 10 to 17 years old - Day Camp
Registration opens March 1st for Summer Mountain Biking Camps!
MTBX offers exciting Summer Mountain Biking Day Camps for kids ages 10 to 17 with skill levels from intermediate to advanced and prior trail riding experience.  Our June and July camps are made up of small groups of up to 10 riders per group. 
We offer transportation to all trail locations, with parents conducting drop off and pick up at Mitchell Park Playground in Palo Alto.  
Our MTBX Director and staff are highly skilled experts and enthusiastic instructors, with vast biking experience.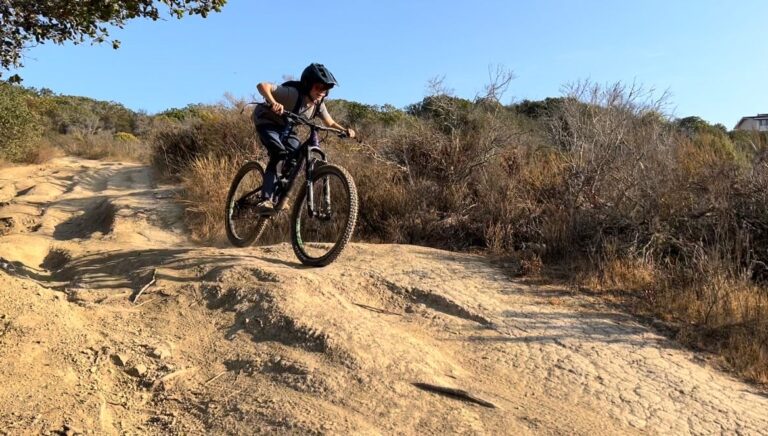 Summer Camp riders will learn new biking skills, learn trail etiquette and safety,  improve their physical stamina and self-confidence while they explore the very best mountain biking trails and make new friends!  Your rider will improve in their physical riding ability, stamina and confidence levels in an outdoor environment that is both fun, safe and well supervised by our team. Contact us for more information!
We Offer Incomparable Value in the Summer Camp Experience!
Professional photos, drone footage and end-of-week edited music video

Santa Cruz Beach Day to cool off and have fun in the summer sun

Pizza Friday to celebrate an amazing week of riding with new friends

"My son has had great experiences mountain biking with MTBX. He's gone during weeks in the summer over the past 2 years and loved it. We plan to have him attend again this year. They visit tons of different trails and he always comes home happy and tired."
$
700 / Week ($675 until May 31st)
June 5 - August 4
Instructors: Highly trained, certified and expert riders

Recreation Areas: MTBX obtains permits to recreation areas

Transportation: Safe and professional licensed CDL drivers
Camp Times: Monday through Friday, 9:00 am to 3:00 pm daily.

Dates: Summer camps are consecutive weeks in June, July and August.

Booking: See the Booking Calendar for exact dates for booking camps.
Note: Overnight Camps have different prices and requirements 

Camp Hours: Summer Camps include close staff supervision for 6 hours per day, 30 hours per week in an exciting outdoor setting.

Drop Off & Pick Up Location: This is a parent drop off and pick up camp with the location at Mitchell Park Playground, Palo Alto. 

Required Equipment: Each rider must have their own mountain bike and helmet.

Safety: We follow safety guidelines for all our summer camps and other programs.

Trail Locations: The mountain biking trails used include various regional and state parks and pump tracks that are well suited for mountain biking in Santa Clara, Santa Cruz and Mateo Counties, in the Bay Area of California.

What To Bring: All riders will need to bring their own water, healthy snacks and lunch for each day. Riders should dress appropriately to the weather conditions for each day of camp.