Testimonials About MTBX
Parents and our riders consistently give excellent testimonials about MTBX and it's expert Coach!  MTBX has received many positive testimonials for the overall experience, the personal attention of the Coach, the choice of the best biking trails and the benefits of riding with small groups. We'd love to hear what you have to say about your experience riding with MTBX.  Please contact us so we can include  your testimonial here!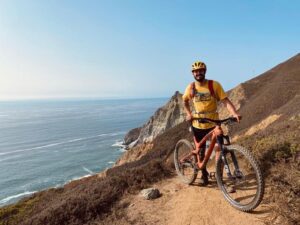 Parent Testimonials  About MTBX  Programs:
"Lukas and Erik are super, high energy, positive roll models for these kids.
These guys go the extra mile to keep parents appraised of the rides and what to expect the following day. This is Dillon's second year camp experience with Lukas and first year at MTBX. He loved it all and came home every day ready to recover and get plenty of sleep and charged for the next days rides. We have a high degree of trust in MTBX for both people safety and equipment transport, so Dillon got to ride Grandpa's Carbon Enduro all week!
Dillon says "5-stars best camp ever!!"Looking forward to our next MTBX experience.
(Cole Porter, July 2021)
"My 11 year old son was new to mountain biking and wasn't sure what to expect. It turned out to be challenging and fun and a very memorable week. He gained confidence in his riding skills and in his own strength. Definitely recommend.
They are great communicating where they go each day, what to expect and send photos of the amazing sites they bike at.
Highly recommend and hope to return next summer!
(Jenni Yoshida, Summer Camp June 2021)
"My wife booked me an adult ride package with Coach Lukas as a special birthday gift. 
What a gift!  We rode just the two of us, at a beautiful location and spent three hours on the trails. 
Yes, I was pushed to my max, but loved it and can't wait to ride with MTBX again!"
(Adult Rider, Palo Alto, March 2021)

"President's Week Camp was super fun for our son!  He was able to ride on many trails that he has never been on and make some new mountain biking friends. He can't wait for Summer Camp weeks!"
(Parent, Woodside, February 28, 2021)
"My son, Jacob, has a social distanced mountain biking birthday party at MTBX. The coach was cautious with social distancing and sanitizing. The group went on a bike ride in foothills. Thank you Coach Lukas for making this a nice experience."
(Parent Antoni Kowalski, February 6, 2021)
"My son had a great time with coach Lukas this week.  Coach Lukas took my son to a trail near SF and motivated him even though he was tired.
My son said the ride was very fun and exciting."
(Parent Joseph S. February 6, 2021)
"I absolutely love having my son come home every day with a huge smile on his face. He always spends the whole day talking about his adventures at MTBX. Lukas is a VERY fun coach, making everything very enjoyable for the kids while still growing their skills."
(Parent Murci, February 6, 2021)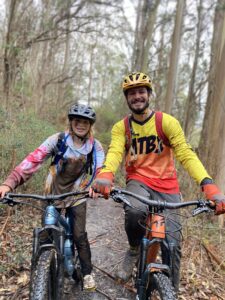 He made everything both challenging and so much FUN!"
(Parent, Los Gatos, CA)

"Coach Lukas has made mountain biking so much fun for the kids. My son is hooked on mountain biking after the very first ride with Coach Lukas!  He took the kids to various trails to give them the proper amount of technical challenges as well as fun activities, such as swimming in the ocean and exploring caves. M y son not only got physically and mentally stronger, but has also developed a deep appreciation of nature.  He is excited and looks forward to every ride with Coach Lukas. Highly recommend….thank you Coach Lukas!
(Parent, Palo Alto, CA)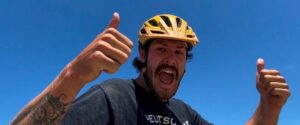 "I love the idea that our child can ride the trails with a Coach who has such a great personality and teaching skills.
It's more than just the ride – it's the whole experience that counts
and we really see how much our son looks forward to each session!"
(Parent, Palo Alto, CA)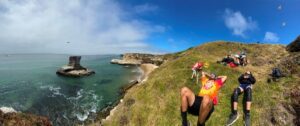 "My son had a great time and lots of fun.
He was challenged each and every day by his Coach to push his limits
and he was exhausted, dirty, excited and ready to come back!
(Parent, Los Altos, CA)
"I booked multiple packages with MTBX and it's always money well spent!  My kid enjoys exploring new places, getting out in nature and improving his skills and fitness. He love riding with Coach Lukas!  From a parent perspective, Lukas is a consummate professional – communicative, prompt, trustworthy, etc.
My kid looks forward to his rides and comes home with a huge smile on his face.
Since he started mountain biking regularly, he is more confident, centered cooperative and is even doing better in school.
I cannot recommend MTBX more highly!"
(Parent, San Carlos, CA)
"We struggled to find a skilled mountain biking Instructor for our teen daughter.
She loves the sport and wants to improve, so we were thrilled to find MTBX!
We appreciate that they drop off and pick up as well – it saves us so much time in our busy working day.
(Parent, San Jose, CA)
"We hired MTBX for a mountain biking birthday event and the kids had a blast!
It was by far the most unique party that any of the kids ever attended."
(Parent, Saratoga, CA).
"We were looking for something new and special for our son when he turned 13.
His mountain biking birthday party was a great idea that we surprised him with.
He totally LOVED it! He and his best friends celebrated with a trail  adventure.
We got great photos from the Coach Lukas who is high energy, fun and made it our son's 'best birthday EVER!!'"
(Parents of teenage boy, Palo Alto, CA)